Austria's largest hospital―the
Vienna General Hospital
(2100+ beds)―together with the
Medical University of Vienna
decided in March 2010 to add clinical decision support (CDS) to their hospital information system i.s.h.med (originally delivered by
Siemens
Health Services, now a
Cerner
Corporation product). Opting for Medexter's CDS solution
ArdenSuite
, they acquired an extended site license for both patient care as well as for research and teaching purposes.
Uniqueness Due to Fuzzy Logic
Due to the integration of fuzzy concepts, a powerful feature of the
ArdenSuite
is its possibility to additionally accommodate the high degrees of uncertainty often found in real-life medicine. Linguistic as well as propositional uncertainty is taken into account. The implementation of fuzzy concepts is a globally unrivaled feature, as it allows to model human decision making processes more closely to the circumstances of real-life medicine than conventional CDS systems, which only allow simple yes/no outcome possibilities.
Clinical Applications in i.s.h.med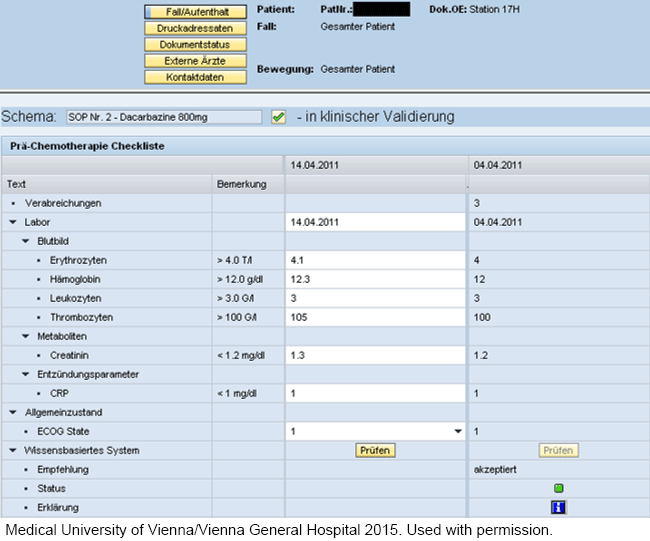 Present ArdenSuite applications at the Vienna General Hospital are: "Standard operating procedure (SOP) checking for chemotherapy treatment of melanoma patients" (see image), "Prediction of metastases in melanoma patients", and "Dosing of immunosuppressive drugs for kidney transplant patients". The necessary Arden Syntax medical logic modules (MLMs) for these applications were developed either by the Medical University of Vienna's research groups or by Medexter―in either case in close cooperation with the hospital's clinicians. To access the ArdenSuite applications from i.s.h.med's user interface, new interface elements have to be programmed. This can be done by skilled hospital IT staff, by the i.s.h.med vendor, or by Medexter's development team.
ArdenSuite Software Licenses: Our ArdenSuite software entails the ArdenSuite integrated development and test environment (IDE), the ArdenSuite server, and the ArdenSuite server connector. Available licenses are: Educational license for teaching purposes, research license for research and teaching purposes, healthcare license for patient care, and health IT license for vendor product integration/B2B. Find more details or request a quote here.
Free Trial Version: Click here to download a 30-day trial of our ArdenSuite IDE.
Save the Date! Meet us at one of the following events:
June 17, 2015: One day prior to the eHealth summit Austria conference in Vienna/Austria, Medexter organizes a free Arden Syntax training course for those who are interested.
June 18, 2015: As part of eHealth summit Austria's scientific programme, a workshop on "Klinische Entscheidungsunterstützung in der Praxis: HL7 Standards, Interoperabilität und ausgewählte Anwendungen" will be co-hosted by members of the Medexter team. It will be the first workshop on the first conference day from 9:00 until 10:30. Find details here.
June 18–19, 2015: At the eHealth summit Austria that is hosted by HIMSS Europe in Vienna/Austria, Medexter will participate with a booth as part of the industrial exhibition.
June 19, 2015: CEO and Scientific Head Prof. Dr. Klaus-Peter Adlassnig will give a presentation on "Herausforderung Infektionsprophylaxe: IT-gestützte Qualitätssicherung" at eHealth summit Austria. The presentation is part of the summit's HIMMS track and will be from 14:30 until 16:00 on the second day of the conference.
August 19–23, 2015: CEO and Scientific Head Prof. Dr. Klaus-Peter Adlassnig will be present at the 15th World Congress on Health and Biomedical Informatics (MEDINFO 2015) in São Paulo/Brazil.
October 4–9, 2015: Meet members of the Medexter team at HL7 International's Annual Plenary & Work Group Meeting in Atlanta, Georgia/U.S.A.
November 14–18, 2015: Members of the Medexter team will be present at the AMIA 2015 Annual Symposium in San Francisco/U.S.A.
We value personal contact and interesting conversations about all topics related to clinical decision support. Please feel free to contact us via
email
or give us a
call
!
Visit our website
www.medexter.com
for more information.
If this is an unwanted email or if you wish to unsubscribe from these emails, please
click here
.